Microsoft Teams includes a very rich bundle of programs to help you easily communicate with colleagues and friends remotely.  To hope you navigate the means ways to use Teams, we offer these tips.
Having problems hearing or seeing in Teams?
Microsoft Teams has a built-in test function for your audio and video devices.  Select your picture at the top right of Teams, choose Settings > Devices. On the resulting page, click the Make a test call button.  You should hear a voice walking you through the test procedure.
Have a question about Teams?
---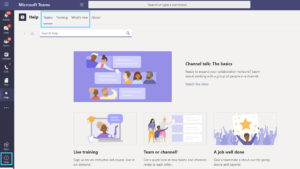 In the bottom left corner of Teams is where you'll find Help. Select Help > Topics, then browse featured topics, or search for something you need. You can also check out the Training tab for short how-to videos to get up to speed on Teams, or the What's new tab for updated features and function.
Set up a channel for your team
---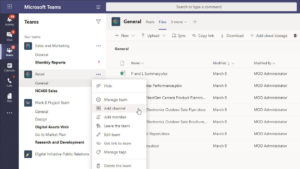 Although you can create multiple Teams, please check with your IT folks before doing so.  Each new Team creates a background library which adds to maintenance work.  Instead, you probably just want another channel anyway.  To add a channel, select More options … next to a team name, then select Add channel.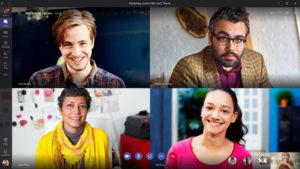 To start an ad hoc meeting, select Calendar. At the top of the screen, select Meet now, and then select Join now. Type names or phone numbers of the people you want to add to your meeting. To share your screen, select the Share button in the meeting controls.
Keyboard shortcuts make Teams more accessible
---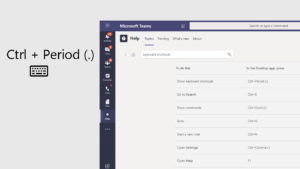 Prefer to use a keyboard instead of a mouse? Teams has a shortcut for you. In the Teams app, press the Ctrl key and the Period key together to display a list of available keyboard shortcuts.
Stay in the loop with Activity
---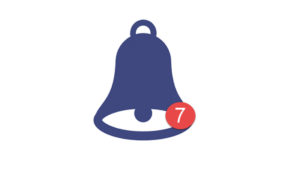 Activity is where you can see all your notifications—from @mentions to replies to conversations you started—in one place. You specify what shows up in Activity via your notifications settings (see previous tip). Find Activity at the top left of Teams.
Always be in the know with notifications
---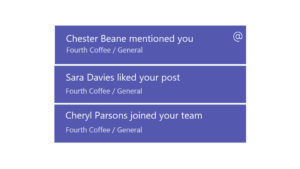 Notifications keep you current with what's happening in your teams. There are two places where you can manage your notifications. First, you can select your picture at the top right of Teams, choose Options > Notifications. Or, control them at the channel level. Select More options … > Channel notifications next to the channel.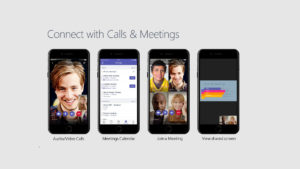 The Teams mobile app helps you connect and collaborate wherever you are. The app is available on iOS and Android. Chat with colleagues, join meetings on the go, and access all of your teams, channels, files, and more.
If you have questions about this, please let us know and we will be happy to assist you.
Take care,