Syncing Issue – There is a sync issue in OneDrive
If you are getting an error indicator on your OneDrive icon:

(note the red circle and "x"), then you are having a sync issue.  It may be that one of the libraries that you have been syncing has been deleted, or that you no longer have access to it.  This article will help you resolve this problem
IMPORTANT!
Your other libraries and your OneDrive folder will continue to sync even if one of your libraries is giving you a sync issue.
Determine the cause of your sync issue
If you are getting an indicator that you are having a OneDrive sync issue with this icon on your taskbar (

), then please click the error icon.  This will bring up the OneDrive panel with more information.  The following banner tells us that your OneDrive program is having a problem: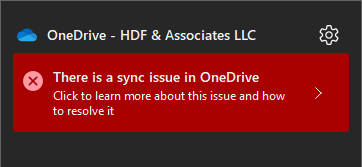 Click the Right-Arrrow on the banner.
If you receive this following message, then your computer is having trouble accessing the indicated library you have been syncing: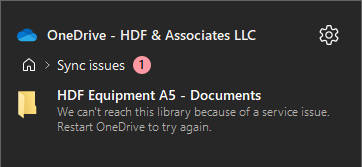 The first thing to try, as indicated, is to close all of your programs and reboot your computer.  If this resolves the problem and your OneDrive icon returns to and stays normal (

), then you are finished.
If rebooting does not resolve the problem, then you should reach out to your tech administrator.
If your tech administrator indicates that the SharePoint library has been deleted, or that you no longer have access to it, then you will want to follow the steps in this article to stop syncing it to your computer.
If you have questions about this, please let us know and we will be happy to assist you.
Take care,