Identify those SharePoint libraries you will frequently access
SharePoint libraries are controlled by permissions set by the administrator.  These permissions control which libraries you have access to, and what you can do with them (read only, edit, publish, etc.).  There may be many libraries you have access to, but perhaps there are only a few that you will frequently use.  This article will guide you through "Following" specific libraries to make them easier to access.
Why should I follow a library?
Benefits of "Following" a library are:
Followed libraries show up when you open SharePoint (you won't have to search for them each time).
It becomes easier to create shortcuts to SharePoint folders
Your OneDrive window lists only those Shared Libraries which you are following.
NOTE: SharePoint contains sites, and those sites contain libraries.  Technically, you "follow" a site instead of a library.  However, since in this plan there will only be one library per site, and since the goal of following a site is to mark which libraries you frequently use, we will refer to the act as "following" a library.
Article Index:
Initial Setup:
Sending/Receiving files:
IMPORTANT!
After following these steps and following a site/library it can take a while for the change to be reflected throughout your O365 account.
Steps to follow a site/library
Log into O365 and click the App launcher

Click the App launcher icon ()

Launch SharePoint

Click the SharePoint icon ()

Splash page

When you first open SharePoint, you may get a "Welcome to SharePoint Home" splash page.  Simple click the "X" in the upper right corner to dismiss it.

View the SharePoint homepage

Upon your first entry to SharePoint you will be presented with an empty screen, similar to this:

Since you have not accessed any libraries yet, there is nothing listed.

Find the site/library

To follow a library, first you must find it.  Enter the name of the desired library in the search bar at the top:

Locate site/library in search results

This will result in a list containing the desired library:

Select the site/library

Click on the site/library name to enter the library.  (Note: look for an icon similar to the purple box above with the initials of the library you seek).  This will bring you to the desired SharePoint site as seen here:

NOTE: you can see from the outline of a star in the upper right corner that this library is not yet being Followed.

Click the Star to follow the site

Once you click the outline of the star, the star will become solid and it will indicate that the site is being Followed like this:
Site/Library listed on SharePoint homepage
When you return to the SharePoint homepage, you will see the sites/libraries you are now following.
NOTE: it may not show up here immediately.  You may have to wait a while.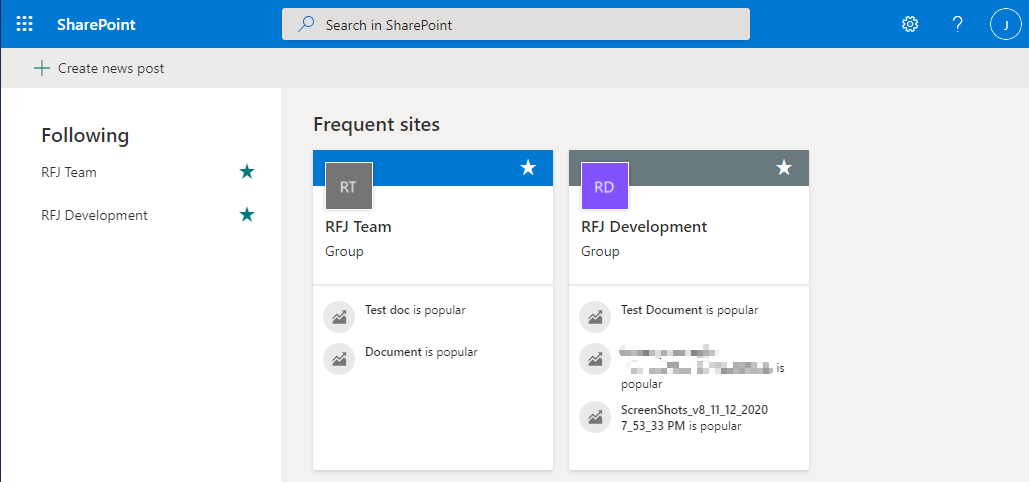 FAQs:
I can't find a library
If you search for a library and you are not able to find it, the reason could be:
You do not have access to that library.  If you feel that you need access to it, please contact your supervisor and/or network administrator.
You may be spelling it wrong.  Please check your spelling.
You may have just recently been given permission to it.  It can take up to an hour for you to be able to access a library.
If you have questions about this, please let us know and we will be happy to assist you.
Take care,