Receive a link to a SharePoint file which someone has sent to you 
This article will walk you through the steps to receive a document someone sent you from their SharePoint library.  This document is meant specifically for you and will require you to enter a code sent to you in another email to verify your access to open/download it.
IMPORTANT!
To follow the steps in this article you must have received an email with a link (URL) to a SharePoint library file.  The email will look something like this: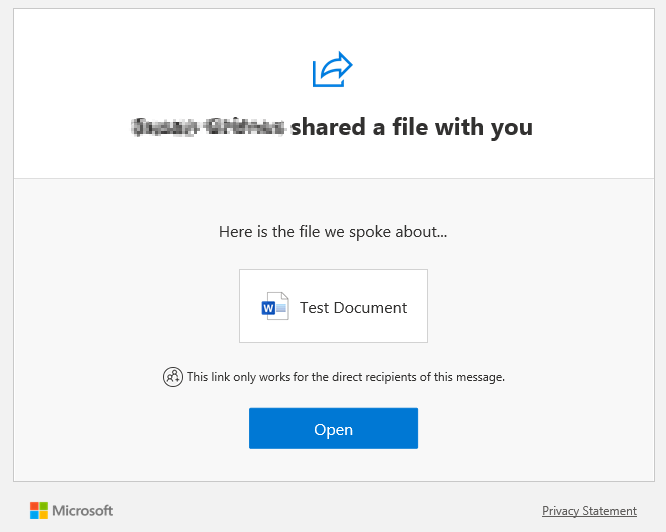 Receive a SharePoint library document
NOTES: These steps are shown to receive the document on a Windows 10 computer, but you can follow the same steps on a Mac or Windows 11 computer (though the screens will vary slightly).
Receive the email and click on the Title

Once you receive the email, click the Title of the document in the center of the email.  In this example, the Title is "Test Document"

Request Verification Code

Once you click the Title, your default browser will open with a page similar to this.  Note that the Title of the document is displayed.

Click the "Send Code" button to automatically send you the verification code in a separate email.

Verification Code Prompt

Your browser window will immediately change to reflect that it is prompting you to enter the code.

Receive email with Verification Code

You will receive a second email with the verification code.  It will look similar to this:

You are receiving this code to verify that you are intended recipient of the document.  If someone else were to obtain the original link, they would still not be able to access the document without this code.

Enter the Verification Code

Copy the Verification code from the second email and enter it in the prompt in your browser, then click the "Verify" button.

View the file

Your browser will now display the received document.  If you only need to view the document, you can just close the browser when you are finished.  If you would like to download the document, click the "Download" icon at the top right.
If you have questions about this, please let us know and we will be happy to assist you.
Take care,