What is that new widget on my taskbar?
Microsoft has silently rolled out a new widget that will show up on your taskbar in Windows 10.  By default, it will show the current weather with both an icon and a text description.  If you hover over or click on the widget, the full window will appear showing many news and interest related articles.  This post explains how to customize it to focus on your interests and how to restrict or remove it if you find it bothersome.
To manage the widget:
Right-click anywhere on the taskbar and select "News and Interests"
Select "Turn off" to remove the widget from your taskbar altogether.
Select "Show icon and text" to show both the icon and text description of the current weather.
Select "Show icon only" to show just the icon of the current weather.
Select "Open on hover" to open the page when you just hover over the widget.  Uncheck it and it will only open when you click on it.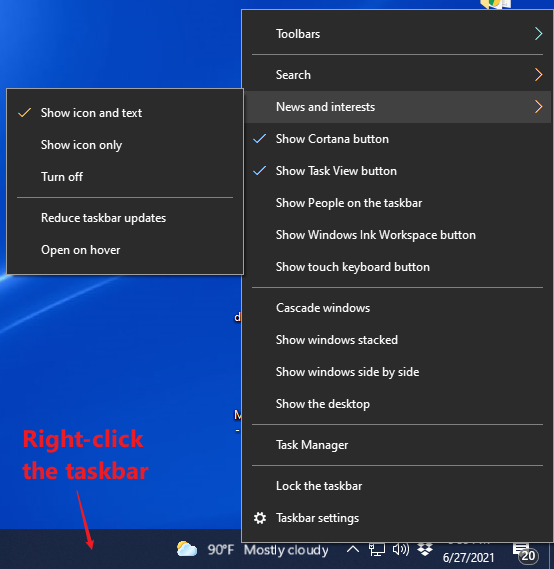 FAQs
Why are new things showing up on my computer?  Is it a virus?
Microsoft has a regular update schedule.  Every month patches are released which include bug fixes, repairs, and new features.  This is a new feature.  It is not a virus.
The News widget keeps popping up on its own
Actually, it's probably popping up when you pass the cursor over the taskbar display.  It's configured to popup when you hover over it.  You can control this behavior by managing the widget (see below).
Do I need to keep this widget on my taskbar?
No.  You can modify it or remove it completely.  See  how to manage the widget (see below).
I want to see news, but I don't like the articles I'm seeing
You can personalize your feed by clicking the "Manage Interests" button and choosing from topics or sources you'd like to follow.  You can also close the windows on the articles you don't want to see.  Just click the X in the upper right corner of any such articles.
If you have questions about this, please let us know and we will be happy to assist you.
Take care,