IF KEEPING WINDOWS UP TO DATE WERE AS EASY AS REBOOTING ONCE A WEEK, WOULD YOU DO IT?
Keep your Windows 10 computer running smoothly by making sure it gets updated at times convenient to you…  if you don't pay attention you may be putting your company's data and your identity at risk.  Fortunately, once your computer is setup correctly, just picking one day a week to reboot your computer will take care of MOST of your updates.  Pick a day of the week… any day… then close your programs at the end of that day (each week) and reboot.  You don't have to wait until it comes back up… just walk out the door.  When you arrive the following day, just login and get to work.  Simple?  Simple!  Then once a month check your update status to make sure they are running correctly.
So: Reboot your computer regularly, check your update status every month and look for the reboot prompt icons.
How do I update my computer?
Open the start menu

Installing updates on your computer will require the computer to be rebooted.  Please close all programs before performing these steps.

Click the Start button at the bottom left of your screen ()

Open the Settings menu

Click the Settings icon from the Start menu ()

Check your Update & Security status

Click the Update & Security icon

View your update status

You will see a screen similar to this:

NOTES:

EVEN ITHOUGH IT MAY SAY THAT "You're up to date", PLEASE CLICK THE "Check for updates" BUTTON.

PLEASE DO NOT CLICK THE "View optional updates" nor the "Download and install" LINKS SHOWN IN THIS SCREENSHOT.  IF YOU HAVE ANY QUESTIONS ABOUT INSTALLING SUCH UPDATES, PLEASE REACH OUT TO HDF FIRST.

Download & installing updates

If you clicked the "Check for Updates" button and it came back again and said that you are up-to-date, then you don't need to do anything further.

If there are updates available, it will start downloading and installing the updates:

Please wait until they have been downloaded and installed.

Restart when prompted

When the updates have finished downloading and installing, then you will be prompted to "Restart now":

Please click the "Restart now" button.

Continue working

Once your computer reboots, you can continue working.
WHICH VERSION OF WINDOWS 10 AM I RUNNING?
Although all copies of Windows since 8.1 are called Windows 10, there are in fact many versions of Windows 10.  In addition to monthly patches, Microsoft pushes out two new versions each year, one around March and the second around September.  For instance, in March of 2019, Microsoft pushed out version 1903 (2019 March=03)
To determine which version your computer is currently running, just:
Click on the Start button in the bottom left corner of your screen.
When the Start menu comes up, simply start typing "winver" and press the Enter key.  You will see a window similar to this: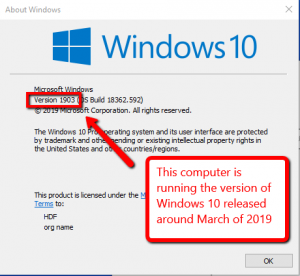 Microsoft allowed users much more control over when and which updates to install on their Windows 7 computers.  Unfortunately, since most users didn't bother to check on their update status, their computers were left partially patched, and therefore partially protected.  Even worse, when they did get around to installing updates, their haphazardly patched state often caused problems installing the new updates.  To prevent this from continuing to happen, Microsoft has rewritten the Windows Update rule book with Windows 10.
I'm still running Windows 7.  Do I have to worry about this article.
No, but you have much more to worry about.

Why do I need to patch my computer?
Unpatched computers are vulnerable to new exploits, which can steal your data, install malware, create new admin accounts… anything the hacker may want to do with your computer.
How often are security updates released?
Typically they are released monthly on the second Tuesday, but sometimes necessity warrants additional updates.

 What does this icon mean on my task bar?
This is one of the reboot prompt icons.  It means that updates have been installed, but you need to reboot your computer to complete their installation.  Please close all programs and reboot your computer by the end of the day.

 What does this icon mean on my Start Menu?
This is another one of the reboot prompt icons.  It means that updates have been installed, but you must reboot your computer to complete their installation.  Please close all programs and reboot your computer by the end of the day.
What about my home computer?
We recommend that you keep all of your computers up-to-date.  Please follow the advice from this article for all Windows 10 computers you use.
I use a MAC.  Does this apply to me?
No.  This is just for Windows 10 PC users.  However, your MAC will certainly benefit from weekly reboots as well.
But rebooting takes so long.  I have work to do.
You could lose a lot more time (and money) by waiting until your computer has become infected, and then having to go through remediation processes to "try" and get you back to where you are now.
If you have questions about this, please let us know and we will be happy to assist you.
Take care,