Get clean, unbiased, untracked search results through any browser with DuckDuckGo
If two people enter the same search term in Google, would you expect them to get the same results?  This article provides the answer and explains how Google's tracking system skews each person's results.  It also provides details of an alternative search engine that doesn't track you and that you can use in any browser… even Google Chrome.
NOTE: HDF is not affiliated with DuckDuckGo, and the links in this (and any InfoLine article) are not tracked and provide no benefit to us.
Chances are 76% of you used Google for your last internet search.  If so, Google was able to add that search term to the ever-growing dossier of data they are collecting about you.  It also means that the results were tailored to mesh with your previous searches.  The more you search with Google, the more the results will fit into your existing world view, not expand it.
If two people enter the same search term in Google, would you expect them to get the same results?  You may be surprised to learn that they most likely would not.  Your search results are skewed based on the ever-increasing dossier of information that Google is collecting about you.  This means that the more you search, the more limited your search results will be.  For instance, if many of your search criteria include topics related to a particular political party, then your results will continue to grow less balanced.  Google will feed you what you expect to hear.
Even Google admits as much: Back in 2010, Eric Schmidt, then-CEO and executive chairman of Google and Alphabet, stated "We know roughly who you are, roughly what you care about, roughly who your friends are.  It will be very hard for people to watch or consume something that has not in some sense been tailored for them."  Eli Pariser in a Ted Talk referred to this as a "filter bubble".  Your interactions with Google will only give you results that fit into the "bubble" you are creating around yourself, effectively isolating yourself from ideas that don't mesh with the world inside your bubble.
If you want more unbiased search results, you could try a different search engine.  We suggest DuckDuckGo (DDG).
Please continue to read to answer questions you might have about DDG
Try it with no commitment
You can try the DuckDuckGo search engine by merely entering https://duckduckgo.com in any browser.  Then enter your search criteria at the prompt.  Since DDG does not save your search criteria, the results will be the same as those for anyone else entering the same criteria  Using DDG in this way does not change your default search engine in your browser, and the next search (if you don't direct the browser to DDG) will use your default search engine again.  To use DDG in this way, you will need to direct your browser to DDG each time you want to use it.
See how biased Google is
Open two browser windows.  Direct one to https://google.com and one to https://duckduckgo.com .  Then enter the same search criteria in both.  You may be surprised at the results.
DDG blocks tracking from websites you view
In addition to not tracking you themselves, DDG prevents websites you visit from tracking you.
DDG ranks websites on privacy
If you install DDG permanently as the search engine in your browser (see below), then DDG will install it's privacy browser extension.  This browser extension lets you know which tracking requests it blocks for each website you visit.  Just click the extension icon (

) in your browser and the details of the website you are currently viewing are displayed.  You may be surprised at the number of tracking attempts made on websites you may think are innocuous.  This example screenshot is from visiting Travelocity.com: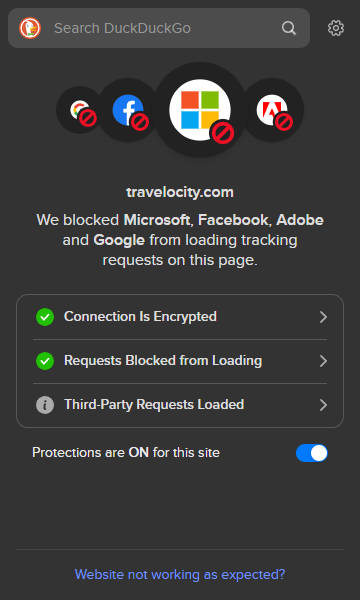 Note: You can disable the tracking-blocking protections on a particular website, if you wish to allow it to track you.
Is DuckDuckGo a browser?
DDG has released browsers for several platforms, including Android phones and Mac computers.  It has not yet released a browser for Windows.  This article refers to the DDG search engine only, which can be used inside of a browser you already have installed on your device.
Use DuckDuckGo permanently
You can change the default search engine in any browser.  To change it to DDG, direct your browser to https://duckduckgo.com and click the "Add DuckDuckGo to <name of browser>" button.  It will provide simple steps to change the default search engine on the browser you are using.  Don't worry, you can always switch it back, if you change your mind.
If you have questions about this, please let us know and we will be happy to assist you.
Take care,