Dark Mode may be easier on your eyes
Dark Mode is all the rage these day.  By reversing the dark and light elements of the page you may reduce eye strain, lessen battery demand, and help you sleep at night. If you wish to enable it, this article walks you through the steps to do so in various programs, operating systems and devices.  Even if you are just curious and want to just try it out, this article will show you how to quickly enable or disable it.
Note: Dark Mode has nothing to do with the "Dark Web", and has no security implications.
Potential benefits of Dark Mode
Along with articles about the benefits of Dark Mode, I have found others that claim the benefits are overblown.   You'll need to judge for yourself if it is helpful.  Fortunately, it is easy to switch back and forth.  Among the claimed benefits are the following:
Dark mode saves battery:
Google announced that using a white background can use as much as 6x as much battery as using a black background on an android phone.  This is true for OLED (organic light-emitting diode) screens, but not of older LCD screens which do not save battery with dark mode.
Dark mode makes it easier to get to sleep
Many articles have been released showing that watching a screen (computer, phone or TV) shortly before going to bed can hinder your ability to go to sleep.  The blue light from the screen can interfere with your melatonin production and circadian rhythms.  Research is still pending to prove that Dark Mode helps reduce this blue-white light, but many claim that it does.  You will have to be the judge of its benefit on you.
Eye Strain
A 2018 article in the British Medical Journal estimates that Digital Eye Strain (DES)'s prevalence can be 50% more among computer users.  Dark Mode is supposed to help reduce the eye strain.
How does Dark Mode look?
Here is an image of MS Word in a split screen, with Dark Mode on the left and regular mode on the right.  Note that in MS Word, the actual document does not change.  The option to view your Word document with light text on a dark background is coming with the next version of MS Office.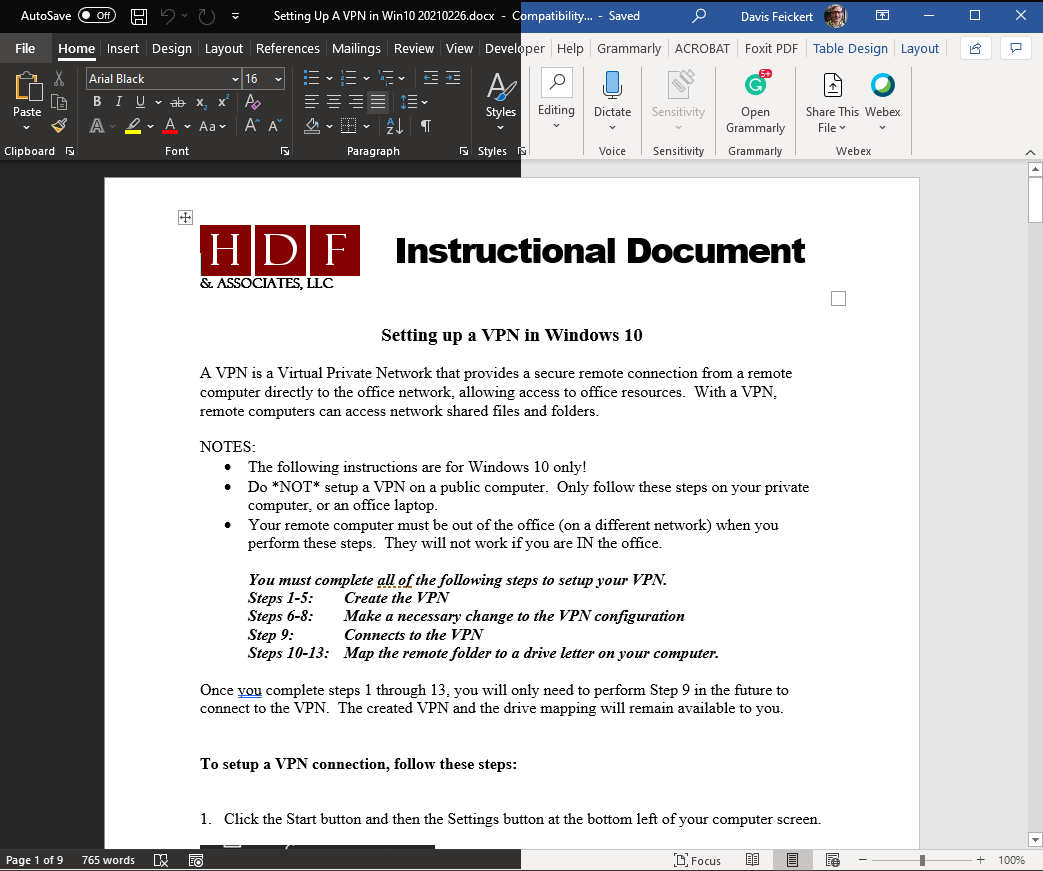 Windows
Windows can now be configured to enable Dark Mode in the operating system.  By enabling it at this level, it will apply to all apps which are built to support it (most are).
ENABLE IT:
Click the Start menu
Click the Settings icon (looks like a cog)
Click Personalization
Click Colors (from the left menu)
Under the "Choose your color" heading choose Dark.
TO DISABLE IT:
Follow the same steps and choose "Light" or "Custom" to revert back to your previous setting.
MacOS
Similar to Windows, macOS also has a system-wide dark mode setting.  In addition to Light and Dark Mode, Apple also offers Auto.  This last setting will switch between Light and Dark Mode during the course of the day and night.  Most apps will follow suit, including all apps from Apple.
ENABLE IT:
Open the Apple menu
Choose System Preferences
Select General
For Appearance, select Light, Dark or Auto
TO DISABLE IT:
Follow the same steps and make another selection for Appearance.
 MS Office
Selecting Dark Mode in Windows 10 will not affect MS Office apps, but Office has its own Dark theme.  The default theme is "Colorful", but Office allows you to instead select "Dark Gray", Black or White.
ENABLE IT:
Open any installed MS Office app
Select File at the upper left
Select Account from the menu along the left
Under Office Theme, select your desired new theme.  For Dark Mode, select "Black"
TO DISABLE IT:
Follow the same steps and select "Colorful" to reset to the default theme.
Android
As with most settings in Android, how to access Dark Mode will depend on your phone manufacturer.  Directions below are for the stock Android 10 (such as can be found on the Pixel phones).
Android Dark Theme options include on and off, but also "sunset to sunrise" and custom schedule.
ENABLE IT:
Open the Settings app
Select Display
Select Dark Theme
Here, you can turn it on or off, or select the "sunset to sunrise" / custom time options.
TO DISABLE IT:
Follow the same steps and make another selection.
 iOS and iPadOS
iPhones, iPods and iPads also have options for "sunset to sunrise" and custom schedules in addition to on and off for Dark Mode.  This allows you to have the device automatically switch back and forth between light and dark mode according to the clock.
ENABLE IT:
Open the Settings app
Select Display & Brightness
Under the Appearance heading, select Light or Dark
Once you select Light or Dark, you can enable Automatic (which leads you to another page to select "sunset to sunrise" / custom time options.
TO DISABLE IT:
Follow the same steps and make another selection.
If you have questions about this, please let us know and we will be happy to assist you.
Take care,